Spring 2023
THIS COURSE TEACHES THE BASICS OF PRODUCT DESIGN FOR MODERN CHEMICAL PRODUCTS BEING DESIGNED THROUGHOUT THE CHEMICAL, BIOCHEMICAL, PHARMACEUTICAL, COSMETICS, ELECTRONICS, AGROCHEMICALS, FOODS, AND SIMILAR INDUSTRIES – USING SOME OF THE LATEST SOFTWARE FOR CHEMICAL PRODUCT DESIGN. It focuses on innovation; taking new technologies from R&D and creating new products to satisfy the needs of consumers. What products might evolve from your research?
Lecture: MWF 1:45 p.m.
Recitation: M 3:30 p.m.
No Classes: Spring Break – 3/6, 3/8, 3/10
Instructor: Prof. Warren D. Seider, Rm. 372 TB, 215-898-7953, seider@seas.upenn.edu
Text:
Seider, W.D., D.R., Lewin, J.D. Seader, S. Widagdo, R. Gani, K.M. Ng, Product and Process Design Principles, 4th Ed., VitalSource E-book, Wiley, 2017.
Outline:
Introduction to Product Design
Molecule and Molecular Mixture Design– ICAS (ProPred and ProCAMD)
Chemical Devices

Lab-on-a-Chip Design – High-Throughput Screening-Kinase Inhibitor
Home Hemodialysis Device
Thin Glass Substrates for LCDs

Functional Product Design – Herbicide Distribution
Formulated Product Design – Sunscreen Design
Batch Process Design and Simulation – Pharmaceutical Products – SUPERPRO DESIGNER
Six-Sigma Product Design
Business Decision Making
Design Optimization
Optimal Design and Scheduling of Batch Processes
Exam: 1 hr at end of semester
Homework: Graded homework assignments to illustrate concepts
Term Project:
Each student will carry out a small term project. It does not involve carrying out a product design project. Instead, it emphasizes how a new product has evolved and its likely future directions. Possible products include growth of Si crystals for chips; conversion of CO2 (decarbonization) to high-value chemical products (e.g., omega-3 fatty acids); plastics upcycling to high-value proteins; hemp to nutraceuticals; waste foods to biogas and electricity)
Intended For: Graduate students (first year especially), CBE juniors and seniors with permission
Taught Initially: Spring 2020, 2021, 2022
CBE 5150 CHEMICAL PRODUCT DESIGN SYLLABUS ADDENDUM
Spring 2023
Overall Objectives
To teach modern approaches for carrying out chemical product design. Most companies apply these approaches to utilize the latest research and development technologies to innovate in satisfying customer needs through the design new chemical products. In addition, to illustrate these approaches, design scenarios for well-known new chemical products are described. This course should help students create start-up companies and/or enjoy satisfying careers in leading consumer-product companies such as 3M Company, Dow/DuPont, Proctor and Gamble, L'Oreal, and GE.
Lectures and Homework
Through the first half of the semester, lectures focus on techniques and scenarios for design of several leading chemical products involving new molecules and mixtures, chemical devices, functional and formulated products, as well as business decision-making and design optimization. Solution of several homework problems helps to clarify the techniques and scenarios.
Term Project

In the second half of the semester, each student will prepare a term project showing how a new product has evolved and its likely future directions. Each semester, several of the latest products will be suggested, either by Prof. Seider or the students.
Student Power-Point Presentation. Each student will prepare a 50-min presentation about his/her chemical product. His/her screen will be shared to be viewed by the entire class. Prof. Seider will receive a PPT file 2-hours in advance of the presentation. If requested, Prof. Seider will enjoy assisting in organizing the topics to be covered. During Q & A, additional topics may be suggested.
Written Term-Project Report. Throughout this period, each student will be preparing a written report – these reports are not the result of an entirely new product design (as described in Chapter 23). This report will be in a PDF file, due to Prof. Seider on the last reading day of the Spring Semester (April 30). Students can request advice from Prof. Seider regarding sections to be included.
Course Grades
Grades will be based upon: (1) homework assignments – 30%; (2) the oral term-project report – 20%; (3) the written term-project report – 30%; (4) a 50-min closed book exam taken over the Internet (not a 2-hour final exam) scheduled at a convenient time for students – 20%. Prof. Seider will hold a Review Session to help students prepare for the exam.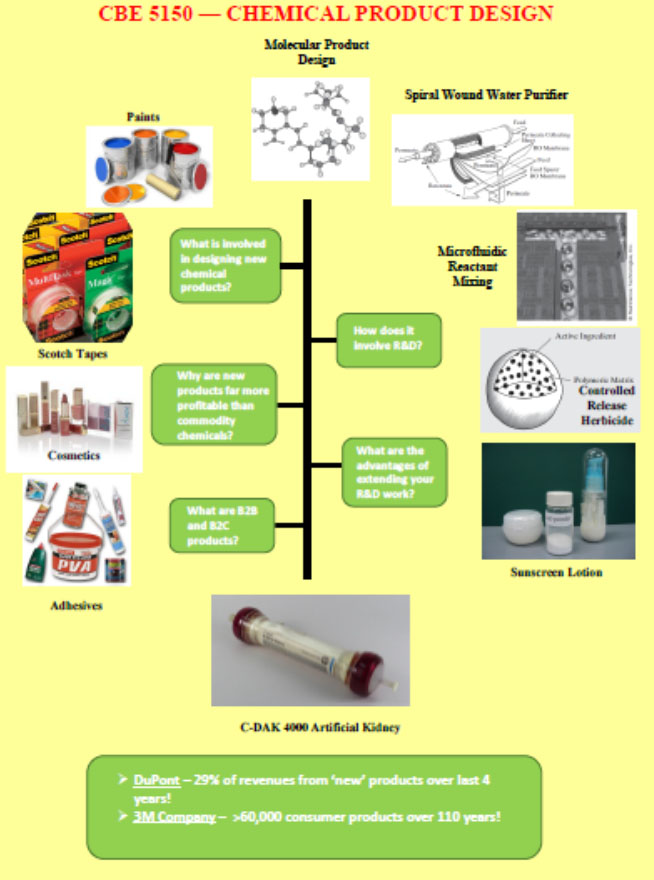 RESERVE BOOKS
Cussler, E. L., and G. D. Moggridge, Chemical Product Design, Second Edition, Cambridge University Press, 2011.
Wei, J., Product Engineering: Molecular Structure and Properties, Oxford University Press, 2007.
Ng, K. M., R. Gani, and K. Dam-Johansen (Eds.), Chemical Product Design: Towards a Perspective Through Case Studies, Computer-Aided Chemical Engineering, 23, Elsevier, 2007.
Pissano, G. P., The Development Factory: Lessons from Pharmaceuticals and Biotechnology, Harvard Business School Press, 1997.
Ulrich, K. T., and S. D. Eppinger, Product Design and Development, Second Edition, McGraw-Hill, 2000.
Gundling, E., The 3M Way to Innovation: Balancing People and Profit, Kodansha International, New York, 2000.
Coe, J. T., Unlikely Victory: How General Electric Succeeded in the Chemical Industry, AIChE, 2000.
Cagan, J., and C. M. Vogel, Creating Breakthrough Products: Innovation from Product Planning to Program Approval, Prentice-Hall PTR, 2002.
Gladwell, M., The Tipping Point: How Little Things Can Make a Big Difference, Little, Brown, and Co., New York, 2002.